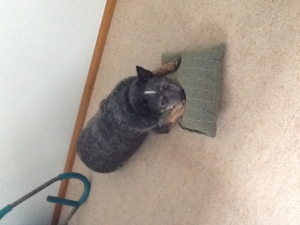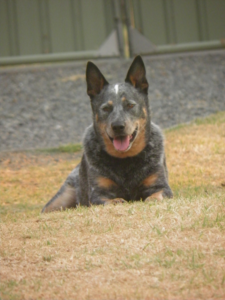 Bundy 8 Year old Deaf Blue Healer – Sydney

Due to us relocating we have to give up this beautiful boy. Bundy is the best dog, very friendly and family orientated. Bundy loves  walking eating sleeping and eating. He loves people and hanging with the family.
He is desexed , microchipped, fully vaccinated, registered, we have vet records and his registration papers although he is deaf he has been trained to sit, come, shake and high five not that fussed on water or bath time. He will chase a ball but when HE wants.

He wants a loving family who he can just hang out with and cuddle him and give him paw rubs.
He is such a loving dog and we just want someone to Iove him. Have we mentioned he loves eating sleeping and walking? Due to deafness we need to walk on the lead unless he is at the dog park and then he wonders  around and next thing he is right by your side. He socialises well with other dogs and plays if he wants otherwise it's a sniff hello and bye.
Bundy loves people and children coming up for a pat makes his tail goes crazy and will just stand for ever getting attention. Not so fussed on cats he has one cat friend in our street. He is a strong dog and when walking if he wants to go off in a direction you will go with him. It's sad he can't come with us and I'm trying not to cry thinking of him with another family but if you love him you will get it back 100%plus.
Contact: Anne Arcus
0407926211
anne.arcus@health.nsw.gov.au