Cob is a handsome and affectionate two year old cattle dog who has always lived in a rural setting with two other working dogs.  As an experienced owner of working dogs I'd say Cob is not the most exercise needy dog I've owned, and is surprisingly chilled even though he is the youngest in our pack.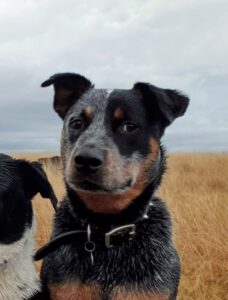 We have made the tough decision to rehome Cob, as he is not great with kids and we want to have quite a lot of kids running around our place in the future.  Having said that Cob is an AMAZINGLY fun dog.  We are an active couple and he loves jumping in our big dam, riding with us on the paddle board, or taking the leg rope and towing us back to shore.  Cob is an exceptionally strong and confident swimmer and would suit someone who likes to be on the water.  I'm not too sure how he'd go on salt water as I've only taken him to the beach and not past the waves.
Whilst our issue with Cob hasby and large been his behaviour with children, he's actually improved heaps, and with the right owner he will continue to improve.  This is what makes our decision so tough.  We have put LOTS of positive reinforcement work into Cob, with gentle, under threshold exposure to children, and he has improved.  I'd really like to see this work continue for Cob in the future.
Cob like many Cattle dogs will raise an alarm when someone approaches the property, and he used to carry on quite a bit.  We have worked on this behaviour so it's not so disruptive when you are trying to say hello and welcome visitors on property.  Cob has made really great progress in this area and will stop barking if he hears my knock on the window, and if someone is on property I ask him to go to his bed.  He's done great in this area but he's still a little ways off my goal of having him be quiet and on his bed once I step out to greet visitors.  I'm happy that Cob barks and lets me know someone has arrived, when I'm inside or elsewhere, but once I'm present, he needs to learn that he no longer needs to make a ruckus.  I'd also like to see this work continue for Cob in the future, with reinforcement for being calm and quiet.
Cob is mostly good with other dogs, but he'll just need to be watched during first meetings.  Like people not all dogs get along and I expect that.
In terms of training, Cob accepts being put on the chain well (this has been our solution when having kids over), walks on the lead, knows cues like; sit, wait, down, off, in the yard, on your bed, away, leave it.  He knows how to play fetch, though has a tendency to try and intercept the ball close to you rather than chase it.  He shows a natural propensity to pick objects up so it would be fun to teach him to bring objects that aren't moving to you.
Cob would suit a couple or a family with older children (teenagers) who are experienced with dogs and can support him to know which behaviours are and aren't acceptable.
Whilst it is easy to simply say a dog needs to be rehomed because of limitations in the dog's behaviour and personality I'd like to make clear that this decision is equally about our limitations as owners to give this gorgeous fellow what he needs.  I hope I've given a fair description for Cob here.  He's not a "problem" dog, he just needs more support than we are able to give him in this formative time.  He's coming into some very good years now, for someone who is willing to meet him there!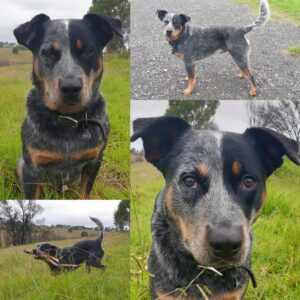 Cob has brought so much joy into our lives and is truly a funny, boofy, lovable larrikin.
If you are interested in Cob – please contact Pi Wei: 0422 000 770