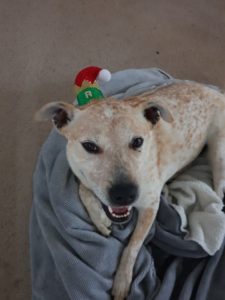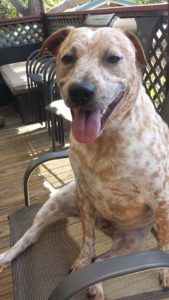 Rue is an absolutely beautiful and sweet natured deaf girl. She loves a good cuddle but also likes to just lie on the grass on her own. Rue does bark when alone and does have some anxiety but with owners who are home the majority of the time and can give her plenty of love and attention, these hopefully wont be too much of an issue.
When Rue first meets people she is quite shy and takes a little bit to warm up but once she does, she wont leave your side. She is very cautious around other dogs and often will hide or stay behind me or my partner to feel safe. This is mostly where her anxiety comes out. Rue is currently on medication for her anxiety however we have commenced weaning her off these.
She is gentle and sweet but is also the boss of her brother! She has no problems with taking his toy and walking back and forth in front of him to rub it in his face or tricking him into running outside so she can get his spot on the lounge/bed!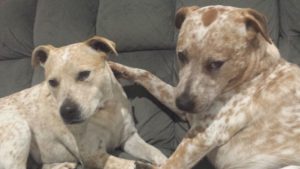 Rue's brother is Morris – they have spent their lives together and we think they would be best kept together however if someone can take Rue and give her everything she needs then we would like to trial them separately and see if this would work. 
Morris is a great boy – he loves to play as much as he can and curl up with you at night. He is happy to just be around you and will take whatever company is on offer!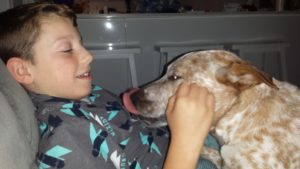 Both dogs are grea
t wi
th kids, they have spent a lot of time with children 5 years and older, not as much with young kids. Morris does get very excited and can jump on new people but calms down after 30 seconds and then is happy to just lie around.  
Both of the dogs are absolutely beautifully natured and would thrive with people that can give them a lot of love and attention.
It is with very heavy hearts that we have to rehome Rue – our neighbours have complained about her barking & are now doing things like throwing things over the fence & leaving our gate open – we are so worried about their safety.
Both dogs are desexed and up-to-date with vaccinations, worming & flea/tick prevention. They are located in Tumbi Umbi, NSW.
If you are interested in our darling Rue (& possibly Morris) then please call Rach 0415 653574.