Shadow is a stunning 9 month old Smithfield Cattle Dog male in need of a forever home.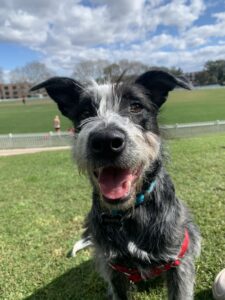 He is the most loyal boy and friend you'll ever have. We believe he didn't have a good start with his previous owner as he came to us very timid and with major car anxiety ( i.e. excessive drooling, possible vomiting, and panting). Shadow is easy to train, however he can at times be hostile towards other dogs and strangers.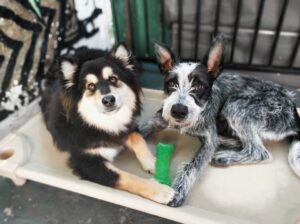 The Bad: Shadow has had problems in group play with other dogs and has gotten into multiple scuffles with other dogs. On walks he can become difficult when another dog is passing, barking, or ahead of where we are walking. He has also attempted to lunge and nip at people who are passing, especially runners. He goes from 0-10 so it is sometimes hard to distract and calm him down. Unfortunately, I had an experience where we tried to calm him down while another dog was passing and he turned around and nipped me in his aggravated state and my roommate had the same experience as well. Mind you, the bite did not puncture through but did bruise quickly. Shadow would also not do well with kids and cannot be near them as he gets on high alert if they are nearby so we try to avoid taking him to parks where playgrounds are. Shadow also has car anxiety where he drools and has vomited. He has had this since he came to us and unfortunately we have not been able to get him to like the car. However we have been able to slowly introduce him to getting into the car on his own and have managed to reduce the vomiting. Lastly, he does have separation anxiety that is slowly improving but he would not do well if he is left alone inside.With training, shadow has improved tremendously and I do believe that with the right home he will be the best dog one could have.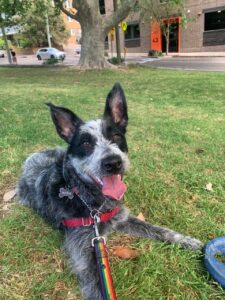 The Good: As mentioned above Shadow is extremely loyal. He is also very strong and very clever. He is a great running partner and loves to be outside in the yard doing his own thing. He can be cuddly and very sweet. He is very food motivated and can be easily trained to do new things. Shadows know the basics like sit, down, wait/stay, drop, and shake. When it's cold he likes to snuggle on the bed and when it's hot he will sleep on the floor or on his own bed. Shadow is also house trained and knows to do his business outside or on walks.
Shadow is desexed, vaccinated and is on heartworm prevention. He is fed high quality food and treats and loves to eat.
We would like Shadow to go to a property where he can truly be his Cattle Dog self or somewhere suburban in an adult home with a big yard where he can be slowly introduced to new people and other dogs. He would do well with a female dog but we are unsure of how well he would do with another male. Unfortunately he wouldn't be able to socialize well in an urban environment. But with loads of patience and disciplined training we know that Shadow would continue to make a great companion in the home and eventually outside in the community.
Finding Shadow a new home is the hardest thing we've ever had to do because he is such an incredible boy and so loving towards those that he knows and he has been a great comfort companion. But we know that a beautiful boy like Shadow would do better and enjoy life so much more in a home where he is completely comfortable and just living his best life.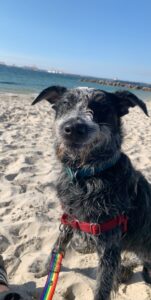 If you are interested in Shadow please contact: Roxy at roxyfarinas@gmail.com or on 0420729929.
**UPDATE**: Shadow is doing much better around other people with proper introduction. He's doing very well on walks and doesn't seem to mind strangers. However, still best not to have him around kids. He does well with big puppers like labs and really loves group play as long as he is supervised closely as he still has some scuffles here and there. #1 thing Shadows loves is the beach so he is a great beach buddy!  Lastly his car anxiety is getting better especially when he has his head out the window! But this loving boy is in real need of his forever home.